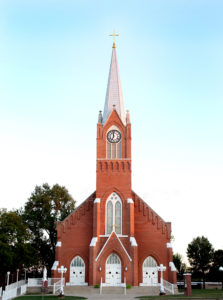 Mass Schedule
Tuesday 7:00 p.m.
Wednesday 7:30 a.m.
Thursday 7:30 a.m.
Friday 7:30 a.m.
(7:15 a.m. First Friday)
Please see bulletin for weekday Mass schedule
Update on Pastoral Activities in our Parishes, in accordance with the updated decree of Bishop McKnight, beginning Monday, May 4
As per the decree of Bishop McKnight all the faithful are dispensed from the obligation to attend Masses on Sundays or Holy days of obligation through June 30, 2020. Those who are at risk because of an underlying health issue or who are over 60 are strongly encouraged, for their own health, to avoid the risk of attending public celebrations of the Mass.
Those who are symptomatic or who have been exposed to another with the virus within 14 days are not permitted to enter the church, in accordance with national, state and local health directives. All attendees are asked to check their temperature at home before coming to church.
We will continue to offer online Masses through June 30, 2020.
There will be a limited amount of seating in the church, due to social distancing rules. You will need to sign up to attend weekend Masses through the parish office, walk-ins to the Mass will not be allowed. To sign up for a Mass, contact Andrea Holtmeyer at the parish office, 793-6550, or call or text cell, 480-4170.
You no longer need to sign up to attend weekday Masses.
If you attend a Mass, or any other sacraments or services, wearing a mask is REQUIRED. You MUST bring your own mask, and wear it at all times, except for when sitting in the pew.
Missals (common prayer materials) are not going to be available in the pews, you may bring your own missal or Bible, but be sure to take it home with you. Offertory processions and the sign of peace are still suspended. A collection basket will be placed near the entry door. Ensure that there are at least 6ft between you and the person in front and behind you during distribution of Holy Communion, and at all times. Holy Communion will only be distributed in the hand.
After Mass, family units should depart in an organized manner, continuing to wear masks and observing 6ft social distance between other households. Bulletins will not be handed out, they will be available online, and in the foyer for pickup.
The Mass schedule between both parishes will be on a rotation schedule, and may change from week to week, depending on the circumstances.
You may schedule baptisms through the parish office, but at the celebration we will follow all the protocols of social distancing.
If you have any questions, please contact the parish office or me directly.
Fr. Joby Parakkacharuvil Thomas
Sunday Mass will be recorded on Saturday evening and uploaded to YouTube and Facebook on the
St. Anthony / St. Lawrence Churches Facebook page https://www.facebook.com/groups/2695122610719788/?ref=share and will be uploaded to each of the parish websites. Please allow time for the uploads.
I will continue to hear confessions during the scheduled times as well as immediately after each scheduled Mass for those who are healthy.
Please call the parish office, or emergency numbers listed in the bulletin if you or another parishioner become seriously ill and needs anointing of the sick or Holy Communion. Home visits are also available. If you know of anyone in our community planning to have surgery please contact the parish office before going to the hospital because priests may not be allowed to visit in the hospitals.
If you know of anyone in our community who may need groceries, household items or anything else please contact the parish office. Please continue to pray. Fr. Joby P. Thomas
CONTRIBUTIONS
You may continue your parish contributions by dropping them in the mail to the parish office at St. Anthony/St. Lawrence Catholic Church 132 Main Street Iberia, MO 65486. A drop box is located inside the church, and you may drop your contributions off there as well. You may also set up ACH withdrawals through your bank. If you bank at Bank of St. Elizabeth, you may contact me for the ACH form, if you bank through another bank, you will need to contact your bank directly.
Please call the parish office at 793-6550 of you have any questions.
BETTER TOGETHER-LENTEN MATERIALS
CONNECT WITH US ON FACEBOOK
Connect with us on our social platforms. Stay in tuned with our latest Facebook posts

Click on the link below to sign up for CCD/CYO/NCYC Text Alerts
Useful Links:
www.vatican.va The Official Vatican Website
www.usccb.org U.S. Bishop's website
www.catholic.org Catholic Online, general infor-mation
www.catholic.com Answers to common questions about faith
www.americancatholic.org St. Anthony Messenger Press site, General information esp. saints
www.nccl.org National Conference for Catechetical Leadership
www.catholicmom.com Practical resources for nur-turing faith with children
www.lifelongfaith.com resources for adult catech-esis
catechistsjourney.loyolapress.com/ resources and training for catechists
www.daniellesplace.com Bible crafts and resources
www.thereligionteacher.com articles and training videos for catechists
www.catholiceducation.org Online resource library for Catholic faith and culture.
www.catholicfamilyfaith.org For parishes, providing resources to build strong Catholic Families