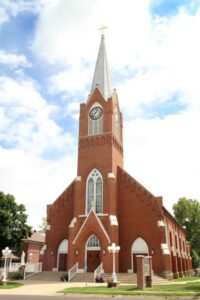 Mass Schedule
Tuesday 7:00 p.m.
Wednesday 7:15 a.m.
Thursday 7:15 a.m.
Friday 7:15 a.m.
Please see bulletin for Holy Day Mass schedule
Virtus Training Instructions
Links
October 20, 2022 – Father Stephen Jones (Link Below)
CONNECT WITH US ON FACEBOOK
Connect with us on our social platforms. Stay in tuned with our latest Facebook posts

Click on the link below to sign up for CCD/CYO/NCYC Text Alerts
Additional Links:
www.catholic.org Catholic Online, general infor-mation
www.catholic.com Answers to common questions about faith
www.americancatholic.org St. Anthony Messenger Press site, General information esp. saints
www.nccl.org National Conference for Catechetical Leadership
www.catholicmom.com Practical resources for nur-turing faith with children
www.lifelongfaith.com resources for adult catech-esis
catechistsjourney.loyolapress.com/ resources and training for catechists
www.daniellesplace.com Bible crafts and resources
www.thereligionteacher.com articles and training videos for catechists
www.catholiceducation.org Online resource library for Catholic faith and culture.
www.catholicfamilyfaith.org For parishes, providing resources to build strong Catholic Families