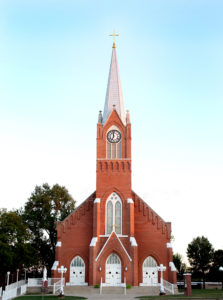 Mass Schedule
Tuesday 7:00 p.m.
Wednesday 7:30 a.m.
Thursday 7:30 a.m.
Friday 7:30 a.m.
(7:15 a.m. First Friday)
Please see bulletin for weekday Mass schedule
CONTRIBUTIONS
You may continue your parish contributions by dropping them in the mail to the parish office at St. Anthony/St. Lawrence Catholic Church 132 Main Street Iberia, MO 65486. A drop box is located inside the church, and you may drop your contributions off there as well. You may also set up ACH withdrawals through your bank. If you bank at Bank of St. Elizabeth, you may contact me for the ACH form, if you bank through another bank, you will need to contact your bank directly.
Please call the parish office at 793-6550 of you have any questions.
ST. ANTHONY & ST. LAWRENCE PARISHIONERS,
I will continue to offer Mass privately each day, at regularly scheduled times, remembering all of you in my prayers. Lectors and servers are still needed for Masses, if you are asymptomatic, and can help, please schedule it through the parish office 793-6550. The maximum number of ministers at one Mass is 3. Please keep in mind that everyone is spiritually present at every mass offered. Our goal is to control the spread of the virus in all possible ways. Let us offer our impossibility to attend masses as an offering of our human condition to our Father in Heaven. The church will remain open during the day for individual prayer and individual devotions such as Stations of the Cross and the Rosary.
Sunday Mass will be recorded at 5pm on Saturday evening and uploaded to YouTube and Facebook on the
St. Anthony / St. Lawrence Churches Facebook page https://www.facebook.com/groups/2695122610719788/?ref=share and will be uploaded to each of the parish websites. Please allow time for the uploads.
I will continue to hear confessions during the scheduled times as well as immediately after each scheduled Mass for those who are healthy.
Please call the parish office, or emergency numbers listed in the bulletin if you or another parishioner become seriously ill and needs anointing of the sick or Holy Communion. Home visits are also available. If you know of anyone in our community planning to have surgery please contact the parish office before going to the hospital because priests may not be allowed to visit in the hospitals.
If you know of anyone in our community who may need groceries, household items or anything else please contact the parish office. Please continue to pray.
Fr. Joby P. Thomas
BETTER TOGETHER-LENTEN MATERIALS
To Find Mass times anywhere, click link below:
CONNECT WITH US ON FACEBOOK
Connect with us on our social platforms. Stay in tuned with our latest Facebook posts

Click on the link below to sign up for CCD/CYO/NCYC Text Alerts
Useful Links:
www.vatican.va The Official Vatican Website
www.usccb.org U.S. Bishop's website
www.catholic.org Catholic Online, general infor-mation
www.catholic.com Answers to common questions about faith
www.americancatholic.org St. Anthony Messenger Press site, General information esp. saints
www.nccl.org National Conference for Catechetical Leadership
www.catholicmom.com Practical resources for nur-turing faith with children
www.lifelongfaith.com resources for adult catech-esis
catechistsjourney.loyolapress.com/ resources and training for catechists
www.daniellesplace.com Bible crafts and resources
www.thereligionteacher.com articles and training videos for catechists
www.catholiceducation.org Online resource library for Catholic faith and culture.
www.catholicfamilyfaith.org For parishes, providing resources to build strong Catholic Families