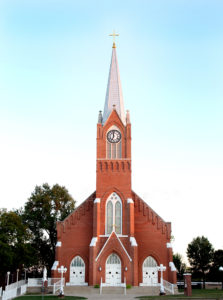 Mass Schedule
Tuesday 6:00 p.m.
Wednesday 7:30 a.m.
Thursday 7:30 a.m.
Friday 7:30 a.m.
(7:15 a.m. First Friday)
Please see bulletin for weekday Mass schedule
To Find Mass times anywhere, click link below:
TOTUS TUUS 2018
Totus Tuus is scheduled for the week of June 3-8. Registration forms have been sent home with your children during CCD classes, and forms can also be found in the foyer of church.
Please turn registration forms in as soon as possible, and NO LATER than May 15. You may drop them in the collection basket during Mass or mail them to the parish office @ 132 Main Street, Iberia, MO 65486.
The classes will be determined by the grade your child is in this year. Pre-K (age 4) through 5th grade will be attending the day program from 8am-1:30pm on Monday, June 4-Friday, June 8.
6-11 grades will be attending the evening program from 7pm-9pm on Sunday, June 3- Thursday, June 7.
Volunteers are also needed to cook lunches for the day program, and teen volunteers are needed to assist with the 1st -5th grade classes. Please contact Andrea Holtmeyer @ 480-4170 if you are available to help in any way.
CONNECT WITH US ON FACEBOOK
Connect with us on our social platforms. Stay in tuned with our latest Facebook posts

Click on the link below to sign up for CCD/CYO/NCYC Text Alerts
Useful Links:
www.vatican.va The Official Vatican Website
www.usccb.org U.S. Bishop's website
www.catholic.org Catholic Online, general infor-mation
www.catholic.com Answers to common questions about faith
www.americancatholic.org St. Anthony Messenger Press site, General information esp. saints
www.nccl.org National Conference for Catechetical Leadership
www.catholicmom.com Practical resources for nur-turing faith with children
www.lifelongfaith.com resources for adult catech-esis
catechistsjourney.loyolapress.com/ resources and training for catechists
www.daniellesplace.com Bible crafts and resources
www.thereligionteacher.com articles and training videos for catechists
www.catholiceducation.org Online resource library for Catholic faith and culture.
www.catholicfamilyfaith.org For parishes, providing resources to build strong Catholic Families